Octubre 13, 2004
What Pre-1985 Video Game Character are you?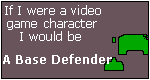 I am a Base-defender. What's mine is mine, and I make sure everyone knows it. Nobody invades my space without permission - I'd destroy everything I own before letting someone take it from me. I tend to be forward-facing, which is both a strength and a weakness.
Hace unos años las parejas discutían sobre los actores del celuloide y se liaban a mamporrazos porque a veces la mari, en un lapsus freudiano, elegía mejor personaje para el vecio que para el propio, demostrando una clara atracción por el abogado del cuarto que por su santo marido ya no sentía. O los colegas se medían el alcance de la virilidad metiéndose en la trasera del bar o bebiendo cachaza del todo a cien. Pero si alguien hubiera entrado en mi casa a lo largo del día de ayer se habría olido un asunto de cuernos en lugar de la cruda y desesperante verdad: por más y más que hagamos el dichoso cuestionario, a mi me sigue saliendo la nave y a él la moto de Tron.
Y yo soy mil veces mejor que él en ambos campos. Faltaría.
Marta Peirano en videojuegos